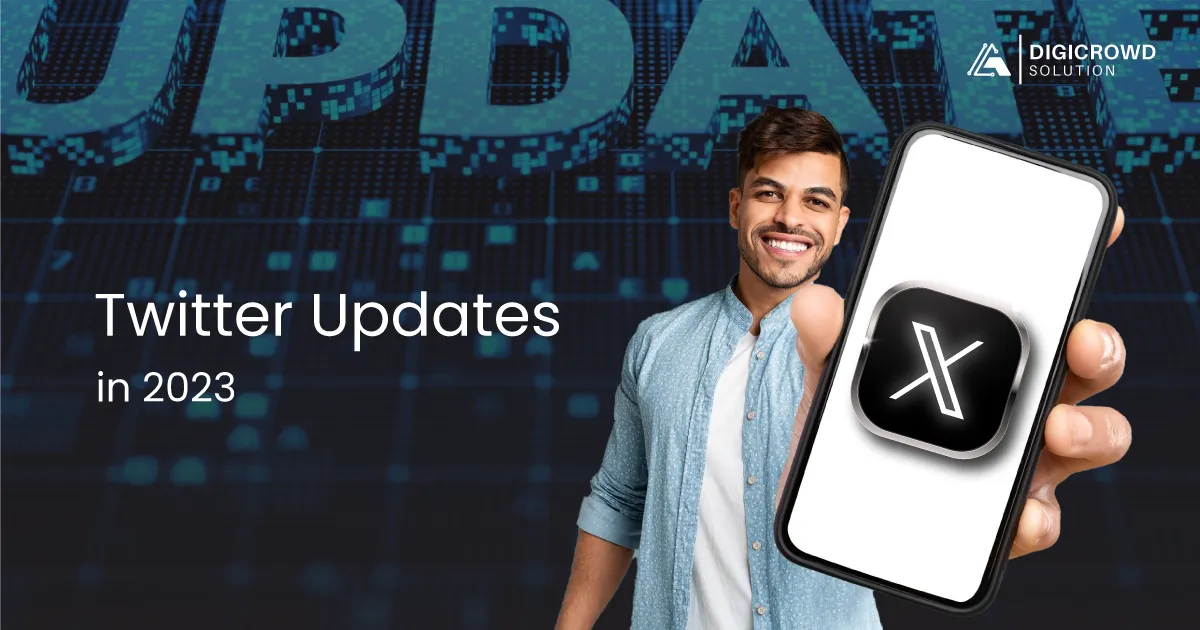 Twitter Updates in 2023: What You Need to Know
Twitter is constantly updating to meet its best user experience and to boost its company awareness after its rebranding. In 2022, Elon Musk acquired Twitter for $44 billion. Elon Musk tweeted 'The Bird is Freed' and 'Let the good times roll' on the Twitter platform to make his entrance as the new Twitter Boss. Since then Twitter has been changing constantly. There have been many changes in the platform to help many businesses create content and grow their visibility on Twitter.
In July 2023 Twitter rebranded as 'X'. Its competitor Meta did not leave any chance and launched the Threads app from Instagram to give competition to Twitter.
Twitter's Fresh Look
Twitter is the most popular and beloved social media platform known for its real-time updates and convenience. Twitter's fresh look reflects innovation. The new logo reflects the spirit of Twitter with its stylish and modern design. The iconic bird that has become synonymous with the platform has undergone a subtle change with increasingly stronger lines. It represents the evolution of Twitter connects people, encourages conversations, and provides real-time information sharing.
The update of Twitter in 2023, has many changes in its platform as there is an improvement in media sharing allowing users to share high-definition photos videos, and GIFs. This update enhances media sharing and user experience. And helps the user to express themselves or their brand better.
The rebranding of Twitter has had a huge effect on the brand. Now the app has become 'everything' it is not just a social media platform. Now, the tweets would be called Xs.
Improved Engagement Metrics
Twitter has improved its engagement a lot. Now it is very convenient to be visible and grow on a platform. The engagement metrics in Twitter measure the effectiveness of your tweets and how much you engage with your followers. The engagement metrics are calculated upon tweets, followers, retweets, replies, and mentions. Now, an update of the 2023 audio recording share is a new feature to engage with the audience.
You can review or track your overall performance with time. This helps a company to understand its audience better and know what its followers want to watch. When follower retweets tour tweets it appears on their timeline and their friends can see your content this will help you to grow and increase brand visibility.
Algorithm Tweaks for Better Reach
The Twitter algorithm is developed or designed according to your interests. It delivers relevant content according to your interests and interactions on the platform. If you want to grow on Twitter there are certain tips to boost your presence and grow on Twitter. Here are some key factors that will help you to beat the algorithm and get better reach:
Be Consistent

Get Your Account Verified

Know the Right Time to Tweet

Use Media Files

Leverage Tweet Polls

Make Use of hashtags

Encourage Followers' Engagement

Repurpose Top Performing Content

Leverage Analytics Data for Planning Content

Join Relevant Trends
Understanding your audience's interest is key to success on Twitter. Plan your content accordingly. Using all the key factors mentioned above can help you crack the Twitter algorithm and get Better reach.
Get your account verified-
Now, it is very easy to get a verification blue check mark on your Twitter profile. In the update of 2023, Twitter has a new feature that you can buy the Twitter premium plan for rupees 900 monthly and get verified on Twitter.
Monetization Opportunities
Monetizing your content on Twitter is easy. Twitter offers two monetization programs: Amplify Pre-Roll & Amplify Sponsorships. These programs are made by Twitter for their user to get monetization. Monetization allows you to generate money from your tweets. Here are the seven ways to generate your income from your Twitter profile.
Set up subscription

Monetize with Amplify

Join Twitter blue

Promote exclusive content

Accept tips on Twitter

Promote your business

Get paid for sponsorship tweets
Remember that the key to success on Twitter is to know your audience and post the content according to your audience's interest and you can generate massive income from Twitter.
Twitter Spaces Expansion
Twitter Spaces is a new feature that enables users to have live audio conversations on the Twitter platform. A user can host many people in a group chat room that is called Space and have a live audio conversation. This feature of Twitter is very useful and can give many benefits to users and their brands.
The benefits of using Twitter spaces are:
Host discussions on trending topics and trends

Boost your brand community

Share company updates

Learn from new people from different industries
With the benefits of Twitter spaces, you can expand and grow your brand visibility easily. This feature is very useful as it has many benefits and can benefit your brand as well. Since it's a new feature it is a perfect time to leverage your brand.
Safety and Privacy Enhancements
Twitter is a safe platform and you can share your information with them. Instead of relying on a password only, you can now have two-factor security With this feature if a user has both your mobile and password then only he can log in to your Twitter account. Twitter keeps updating its platform in privacy and security and provides end to end to end encryption security to its users. Twitter is the best social media platform for security and privacy.
Conclusion
As you can see, a lot has happened at Twitter, and more may come as Elon Musk embarks on his mission to make Twitter what he likes to call the "app for everything"; Lots of changes. Whether these updates are good or bad, Digicrowd Solution gives you features to easily manage your Twitter presence. Digicrowd Solution the best social media marketing company in Lucknow will manage your Twitter account and help you to grow on Twitter and increase your company profit.